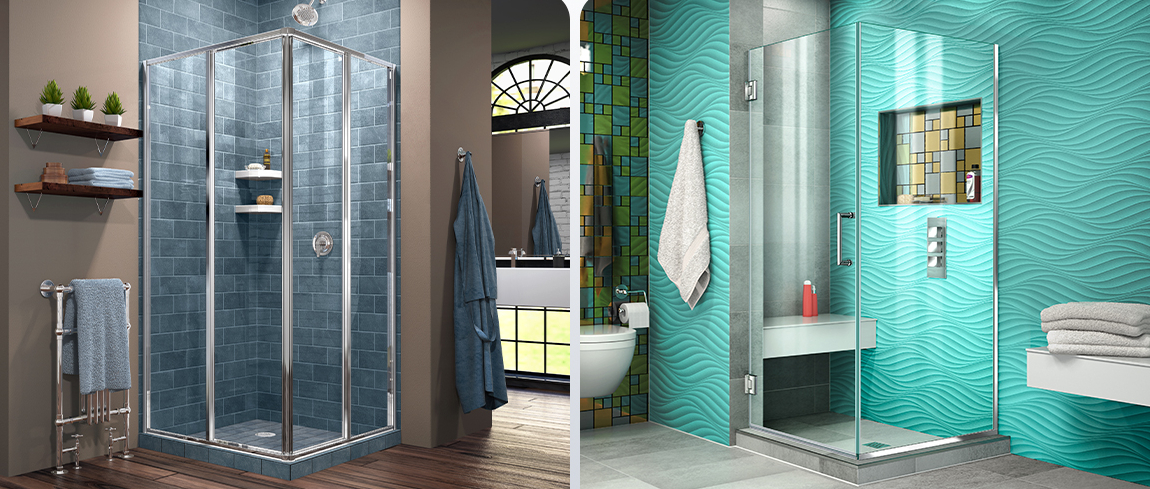 From traditional to contemporary, minimalist to bold and graphic, there's a DreamLine shower door to suit every style – and every budget.
Maybe you've just decided to remodel your bathroom and you're gathering ideas. Maybe you're midway through your renovation and just realized how many shower door options are out there. Or perhaps you're just daydreaming and gathering inspiration. No matter what stage of planning or construction you're in right now, we can help! But before we get into things like choosing glass thickness and hardware finishes, let's start with the basics: choosing between a framed or frameless shower door.
Framed Shower Doors
Framed shower doors are a more cost-effective option and can also be easier to install, making them a good choice for DIY enthusiasts. Also, framed shower doors, such as our Cornerview or French Corner sliding shower enclosure, can be just as aesthetically pleasing as their frameless counterparts. The look isn't as seamless, as the metal framing goes around the door opening and each panel, but you can choose a hardware finish to complement the rest of your bathroom design.
Frameless Shower Doors
Frameless glass shower doors have actually been around since the 1970s, but it's more recent that they've dominated the market thanks to the popularity of a clean and minimalist design aesthetic. Frameless shower doors are made from sturdy, tempered glass (we use premium certified tempered glass) that doesn't need metal support around the edges to keep it intact. This seamless look is free from any visual obstructions, makes the whole bathroom seem larger and more open, and also showcases your beautiful shower tile.
Frameless Shower Door Types
Sliding Frameless Shower Doors
These shower doors, such as the popular DreamLine Enigma-X, slide open and shut with smooth, gliding operation. They're a good choice for small bathrooms since they don't need extra space to open.
Hinged or Pivot Frameless Shower Doors
Another option for glass shower doors, these swing outwards to open. This is a popular choice for standalone showers and can come with a side-mounted hinges or a pivot that's secured at the top and bottom of the panel for movement.
Semi-Frameless Shower Doors
This option is a good middle ground, with framing that doesn't completely encompass the glass. Consider DreamLine's Encore semi-frameless bypass shower door. These shower doors tend to be less expensive than fully frameless shower doors while still offering a clean, modern look.
At DreamLine, we believe everyone deserves to have the bathroom of their dreams with a shower that's both functional and aesthetically pleasing – something that can be enjoyed daily for years to come. That's why we have frameless, semi-frameless, and framed shower door designs to fit virtually every size bathroom, every style, and every budget.
As all DreamLine shower doors are measured for finished opening dimensions, we always recommend that you measure your finished shower opening before you place your order to confirm that your measurements align with the dimensions of the door.
Need help? Please see our measuring guide or call a DreamLine Consultant at 866-282-8413.
Remember: when it comes to your dream bathroom, it's gotta be a DreamLine.