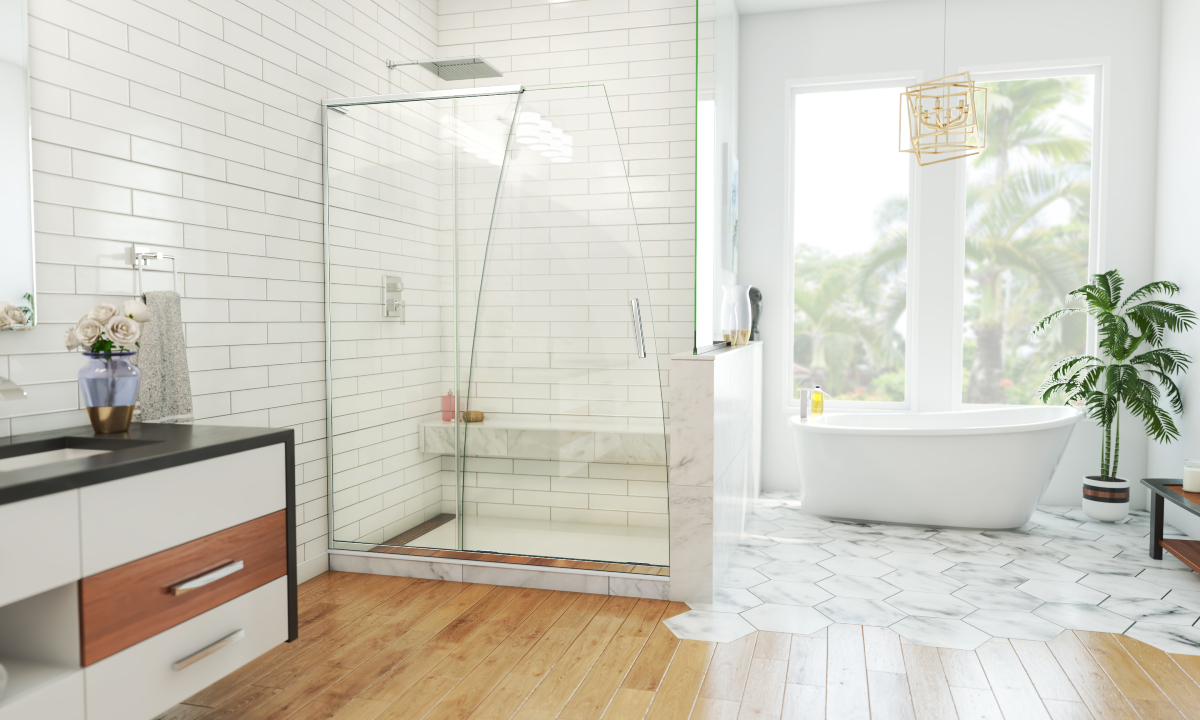 From curved lines and organic shapes to bold color palettes and statement-making patterns, here is our forecast for what will be some of the most instagrammable design moments as we move into the next year.

Stay ahead of the curve
If you follow trends in interior design, chances are you've seen arches and curved lines popping up all over in various applications, whether it be a bookcase, a doorway, a mirror, or a wall niche. The soft look adds a welcoming, organic feeling that fits perfectly with both modern and traditional style homes.
How does a glass shower door fit in with this trend? You could go with a clear, frameless glass shower enclosure like the striking DreamLine Unidoor-X in satin black to highlight an arched niche in the shower. Or you could make a bold design statement with the smooth flowing form of the DreamLine Crest sliding glass shower door.
The Crest shower door features an iconic cascading curved glass silhouette with a fully frameless, header-less design that's enabled by our patented L-Bar bracket for hidden support. Integrated, state-of-the-art rollers offer impossibly smooth and quiet operation. With premium 3/8-inch-thick tempered glass and ClearMax glass protection for easy maintenance, plus a variety of hardware finishes, the DreamLine Crest curved glass shower door is the next wave of bathroom design.
Streamline and step right up
Enhanced floor plans and optimized layouts can make all the difference in interior design. Whether or not you understand the principles of feng shui, you can probably appreciate that good flow and the ability to move around a room is essential for a positive atmosphere. That's exactly why rethinking the bathroom layout is going to be a big trend in the coming year.
An element of bathroom design that seamlessly blends form and function to improve both aesthetics and flow is the walk-in shower. Beloved for their sleek, modern look as well as their easy-to-clean nature, a walk-in shower can easily transform your bathroom no matter how big or small the space may be. Plus, being able to walk into the shower without stepping over a bathtub or threshold will give the whole space a more natural and relaxed feel.
One of our favorite ways to create a walk-in shower space is with DreamLine Linea shower screens. Our dazzling Linea collection of modern, open-entry, single panel shower doors feature:
* Premium 3/8-inch-thick certified clear tempered glass for a luxurious feel
* DreamLine exclusive ClearMax water and stain resistant protection for easy maintenance
* A range of trending and classic hardware finishes to suit your space
Set the tone for self-care
After the past couple of years, it's no wonder we're all looking for ways to turn various spaces in our homes into little sanctuaries, and there's no better place in a home for a private oasis than the primary bathroom. Wet rooms put the "ahh" in spa and are only gaining in momentum as more and more people realize the designated wet space is as functional as it is stylish.
A wet room is typically designed with the shower and bathing space in a designated area, usually partitioned off by glass panels or wall. The floor is sloped so that excess water will naturally flow into a drain. It's usually best to hire a professional for this job.
The only thing that could possibly make a wet room any better is the chic and industrial Unidoor Toulon grid pattern shower door from DreamLine! The look of French doors creates an incredibly inviting entryway into the wet room space. The best part is that grid pattern is made from our durable JetGlaze paint technology, so the surface of the glass is smooth and easy to wipe down and keep clean. It also comes in a range of sizes and features our exclusive ClearMax glass protection for easier upkeep.
Pro tip: You might be surprised to learn that a fall or winter renovation could take less time and money!
Most people think of spring or summer as the best time to tackle their remodeling projects. But the truth is there are multiple advantages to starting a renovation after summer has ended. It's generally a slower season for contractors, so you're more likely to avoid those higher premiums. Also, you're less likely to run into scheduling conflicts, which means getting your project done faster.
Whether you're making small upgrades or doing a major overhaul, the changes you make to improve a bathroom space can add value to your home. Just remember: when it comes to your dream bathroom, it's gotta be a DreamLine.
For help selecting your shower door designs and features, please contact a DreamLine Shower Door Design Consultant at 866-282-8413.