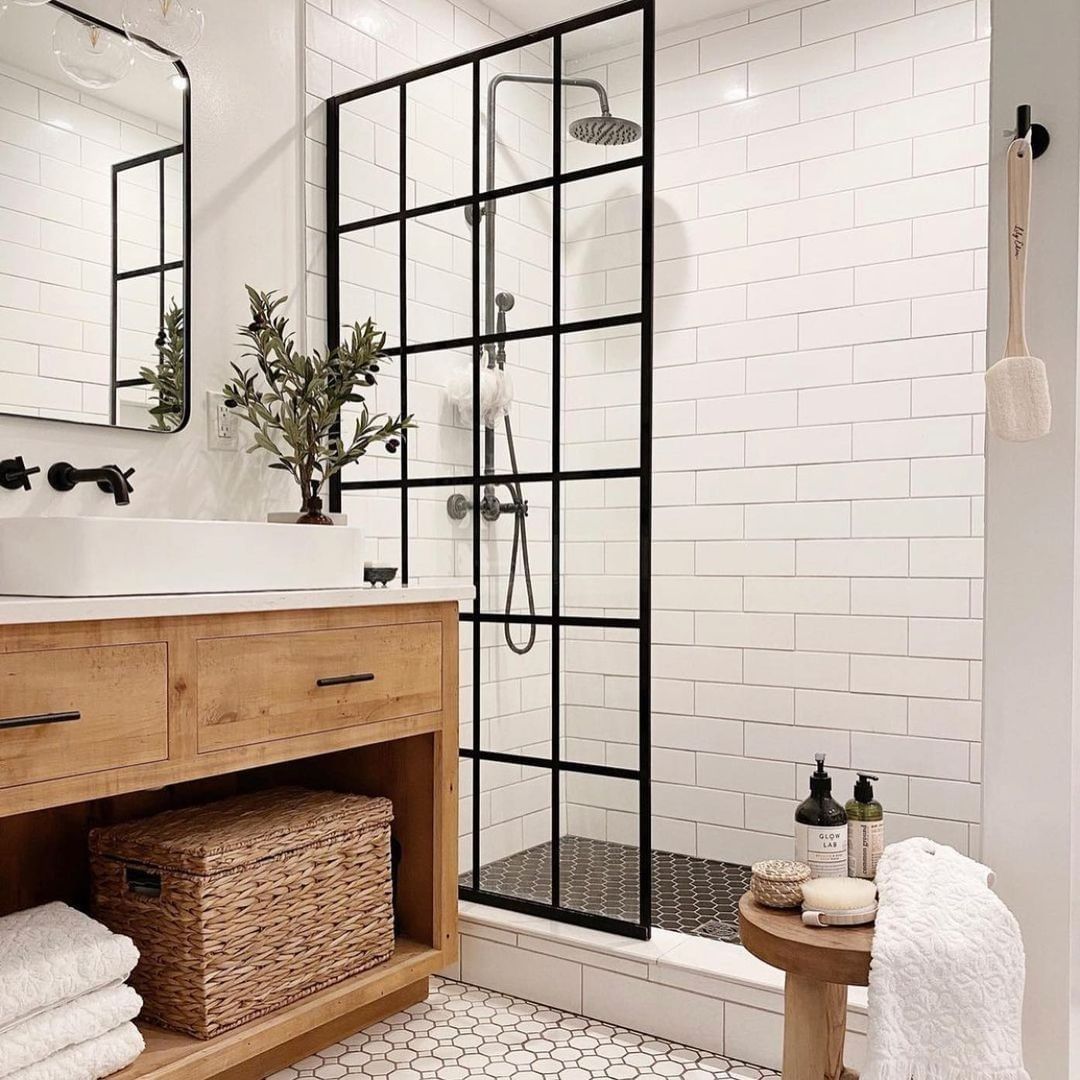 Choosing the right shower door can seem intimidating at first, but the process becomes much more manageable once you understand all the factors to take into consideration. Upgrading to a glass shower door isn't just about picking the first one that catches your eye. It's an opportunity to improve your bathroom's functionality, enhance its design aesthetic, and increase your home's overall value. Whether you're a first-time buyer or a seasoned homeowner looking to design a bathroom with modern charm or classic elegance, understanding the key factors to consider is crucial.
This shower door buying guide is designed to streamline the process, providing you with all the essential information needed to make a confident and informed decision. By the time you're done reading, you'll know exactly what to look for, allowing you to find your dream shower door that fits perfectly with your style and preferences.
Why Choose a Glass Shower Door?
Installing a glass shower door offers benefits that go beyond enhanced aesthetics, functionality, and home value - it provides a solution that's both durable and long-lasting. Unlike plastic shower curtains, which quickly wear out and need to be replaced regularly, glass shower doors maintain their elegance, making them a more practical and eco-friendly choice. Plus, glass shower doors are easy to clean, saving you both time and effort.
Measuring for a Shower Door
Before you buy a shower door, it's critical to take accurate measurements of your shower opening. First, make sure that your shower walls are fully finished with either tile, acrylic backwalls, or any other finished surface that you choose. Next, measure the width from wall to wall at three points:
The top of the shower space (72" up from the base of the shower)

Halfway between the base and the top

The bottom of the shower at the base or threshold
We recommend using a bubble level to check if the walls are plumb. If the walls are out-of-plumb, or uneven, make sure to choose a door that provides the necessary width adjustment to ensure successful shower door installation.
Determining Your Shower Type
Regardless of whether you're designing a bathroom from scratch, renovating an existing space, or just simply adding a door, you'll need to figure out your shower type. The most common types of showers are:
Alcove showers: These showers have three walls enclosing a walk-in shower area without a tub. This type of shower can suit both large and small bathrooms and there are a wide variety of options available due to their popularity.
Corner showers: This type of shower consists of two walls surrounding the shower space and are often referred to as shower enclosures. Corner showers are compatible with various door types like neo-angle, round, and rectangular. This is a great option for smaller, more compact bathrooms.
Bathtub showers: Similar to alcove showers, bathtub showers have three walls surrounding the shower, however this type includes a shower and tub. These are often the most common types of showers.
Picking a Shower Door Type
Shower doors come in a variety of designs, each uniquely suited to the different types of showers listed above. The type of shower door you choose will depend on your dimensions, layout, and your desired style.
Sliding and Double Bypass: Sliding shower doors feature a stationary glass panel and a glass panel that slides along tracks or rollers. Double bypass shower doors have two glass panels that slide and allow you to enter the shower from either side. Both designs save space, making them a great choice for smaller bathroom layouts.
Pivot and Hinged: Pivot shower doors can swing 180 degrees into or out of the shower, offering a versatile swing-style design that's well-suited for smaller or larger spaces. On the other hand, hinged shower doors only swing outwards, making them ideal for more spacious bathrooms. This door type is great for standalone showers and provides a wide entryway, enhancing accessibility and ease of use.
Bi-fold: Bi-fold shower doors consist of two glass panels with a distinct design that offers exceptional functionality. They open via a hinge that allows the panels to fold inward or they use a self-centering pivot mechanism for folding in and out of the shower. This versatility ensures a seamless and efficient operation that's perfect for smaller bathrooms.
Neo-Angle and Round: These are specially designed to accommodate corner shower types, offering a clever solution for those wanting to conserve floor space without compromising on style. They take up less room than rectangular shower enclosures yet still offer ample showering space. With their unique design, neo-angle shower enclosures and round shower enclosures lend a distinctively modern aesthetic to any bathroom remodel.
Screen: A shower screen is a single fixed panel and can be used to create a walk-in shower or wet room design. They provide a spacious, barrier-free entry, making them perfect for smaller spaces or for individuals with mobility concerns. Offering an ultra-modern aesthetic with the advantage of low maintenance, shower screens add convenience and contemporary charm to your bathroom.
Choosing a Shower Door Frame Type
The type of shower door frame you choose plays a significant role in the overall aesthetic and functionality of your shower. While this decision mostly depends on your style preferences, having a clear understanding of each frame type can help you make a well-informed choice that best suits your bathroom's style and needs.
Frameless: Frameless shower doors are typically made of thick, tempered glass panels that require no metal frame for support. Known for their sleek, modern aesthetic, frameless doors are ideal for creating an inviting, open atmosphere in your shower space. They allow more natural light to fill the space, while also showcasing the craftsmanship of your shower's tile work. Frameless doors are often easier to maintain since there are less parts to clean and less chance of corrosion.
Framed: Framed shower doors have metal framing all around the glass panels. Not only do they effectively prevent water leaks, but they also accommodate a broad range of sizes. Since framed doors typically support thinner glass, they may be a more cost-effective option. While these generally offer a more traditional look, various finish options and styles make them versatile enough to suit a range of styles.
Semi-Frameless: Semi-frameless shower doors blend the durability of framed doors with the sleek minimalism of frameless designs. They typically feature limited framing - such as a header for structural support - rather than completely framed glass. If you find yourself stuck between the frameless and framed options, semi-frameless doors provide an excellent and stylish middle ground.
Selecting Your Shower Door Glass
The type of glass you select for your shower door can have a dramatic impact on the overall aesthetics of your bathroom. Along with the visual appeal, it's crucial to take into consideration the thickness of the glass, which contributes to durability and the overall feel of the door. Most shower doors come in a variety of glass options, ranging from clear and frosted glass to more unique designs.
Clear: Clear glass shower doors are transparent and the most common. These doors can make your space feel larger and more open, while showcasing the tile work in your shower area. With its universal appeal, this type of glass is an excellent pick for any bathroom aesthetic.
Frosted: For those seeking a bit of privacy, frosted glass is an ideal choice. The glass undergoes a process that obscures visibility into the shower, offering a sense of seclusion. While it may cause the bathroom space to seem smaller, it can also provide a cozy, intimate feel to your bathroom design.
Smoke Glass: This type of glass creates a bold look with its unique tint. Offering a modern twist to traditional clear glass, smoke glass gives a beautiful and subtle elegance to your bathroom. While maintaining some level of transparency, its distinctive tint softens the view into the shower, striking a fine balance between privacy and openness.
Rain glass: Rain glass offers a visually appealing and privacy-enhancing alternative to clear or frosted glass. This textured glass features a pattern that mimics the look of falling rain. While it doesn't completely obscure the view into the shower, rain glass ensures a moderate level of privacy and diffuses light beautifully, adding a soothing, natural aesthetic to your bathroom.
Patterned glass: Patterned shower doors are a great way to add a distinct and personalized touch to your bathroom design. With the rising appreciation for design-centric bathroom spaces, there are a variety of unique shower door patterns to choose from. One of the most sought-after styles is the grid pattern. This versatile design can accommodate a wide range of interior styles - from the clean lines of modern industrial to the cozy warmth of a country farmhouse. The grid pattern glass design remains a popular choice for those looking to add strong visual interest to their bathroom.
Glass thickness: The type of frame you choose often determines the glass thickness. Typically, framed shower doors use thinner glass since the frame offers more support. Frameless doors usually require thicker glass to provide better structural support and longevity. It's important to choose a glass thickness of at least 3/8" for frameless doors, but most people prefer 1/2" thick glass to provide a more durable feel and smoother operation. It's common to find thicker glass options in master bathrooms, where durability and luxury are essential, whereas thinner glass may be more appropriate for guest bathrooms due to being lighter weight and more cost-effective.
Tempered glass: Tempered glass is a type of safety glass that has undergone a treatment process to enhance its strength. In the rare occurrence that it breaks, tempered glass crumbles into small, pebble-like pieces, rather than shattering into dangerous shards. Tempered glass is around 4 to 5 times stronger than its non-tempered counterpart. Not only is it sturdier, but tempered glass also boasts heat resistance, making it a safe and practical choice for your shower door.
Glass protection and maintenance: While there are many different methods for cleaning your glass shower door, it's best to keep this simple. Mild dish soap, paired with a squeegee or soft cloth, can be an effective solution to remove soap scum, hard water stains, and other residues, all without causing any damage. You'll want to avoid harsh cleaning products with chemicals since they can potentially scratch and ruin the glass. It's also helpful to choose a shower door that comes with glass protection. Select DreamLine shower doors come with ClearMax to protect against water and soap scum. For tips on maintaining a clean glass shower door, refer to our glass cleaning guide.
What is the Average Cost of Buying a Shower Door?
When budgeting for adding a new shower door to your bathroom, you'll also want to factor in the installation. Shower door prices and installation will vary substantially based on factors like the size, style, and brand of the shower door.
Installing a Glass Shower Door
While some homeowners may prefer a DIY approach, professional installation is usually recommended. Before hiring an installer it's important to do your research. You will want to check their work experience, qualifications, and client reviews. A qualified installer will be able to answer all of your questions about the shower door installation process. It's also important to discuss timelines with your installer to make sure this will align with your needs and schedule. To streamline this process, you can refer to our Find an Installer tool to locate a certified DreamLine installer.
Custom Glass Options & DreamLine Shower Door Configurator
If you've searched countless shower door designs and styles, but still haven't found what you're looking for, or have a unique bathroom layout that requires a tailored fit, consider a custom shower door. Offering numerous benefits, custom shower doors can be designed to your exact dimensions and personalized to align with your design needs.
To further assist in finding the perfect shower door for your space, consider using our Shower Door Configurator. This intuitive tool is designed to simplify the process of selecting the optimal shower door based on specific dimensions and preferences. With just a few clicks, the configurator generates a list of DreamLine shower doors that are perfect for your space.
Shower Door Accessories
When upgrading your shower door, it's worth considering a few additional items to complete the look. If you're installing a shower door or enclosure without a tub, you'll need to add a shower base if you don't already have one. If you're remodeling your entire bathroom, wooden bathroom vanities and freestanding tubs bring a touch of luxury and practicality to your space. Teak wood shower seats are another great option and can take relaxation to a new level. These are ideal for longer, more leisurely showers or for aiding individuals with mobility issues.
Buying a glass shower door not only raises the value of your home but it can completely transform your bathroom space into a serene retreat. It eliminates the need to frequently replace worn-out shower curtains, helping to reduce waste, while significantly enhancing both the aesthetic and functional aspects of your bathroom.
We're here to guide you in finding the perfect shower door to suit your preferences and bathroom layout. For personalized assistance, please reach out to one of our Design Consultants at 866-282-8413. With thousands of 5-star reviews, industry-leading warranties, and over 1 million shower doors sold, DreamLine is your ultimate bathroom project partner!