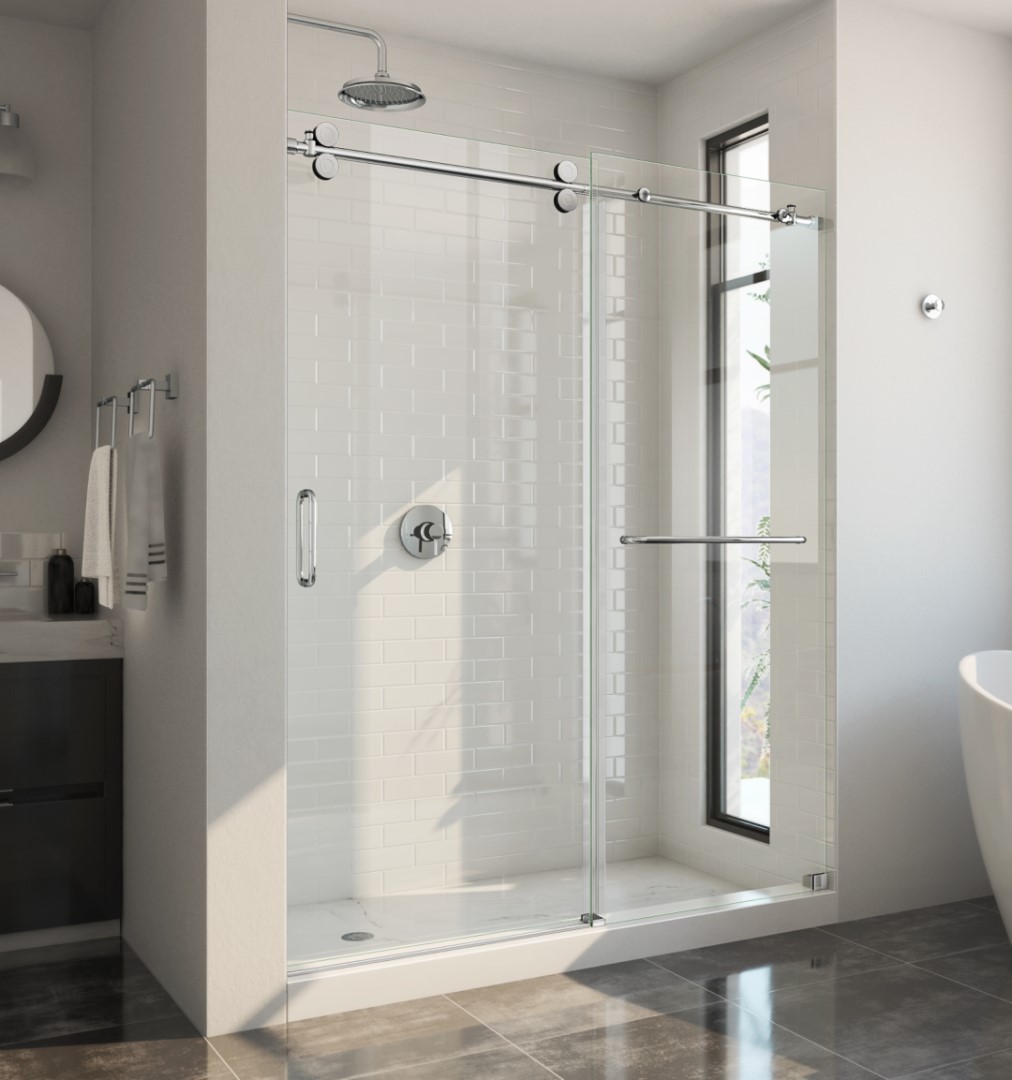 If you're remodeling your bathroom one of the most important decisions you'll make is the type of shower door you install. Shower doors have a huge impact on the overall aesthetic of your bathroom's design and functionality. As more and more people prioritize the style of their home spaces, frameless shower doors have seen a rise in popularity. If you're wondering, "Are frameless shower doors worth it?" and "What are the benefits of frameless glass?" you're in the right place.
Frameless shower doors are a popular choice among homeowners, adding a touch of sophistication and luxury to any bathroom decor. But aesthetics aren't the only thing these doors have going for them. Read on to learn the top five reasons why frameless shower doors are a must-have for your next bathroom renovation.
1. Frameless Shower Doors Elevate Your Bathroom's Style
One of the biggest advantages frameless shower doors or enclosures provide is a contemporary, high-end look and feel. With their sleek, clean lines and minimalist design, they create an impression of more space, making your bathroom feel bigger and brighter. They're also a versatile option, well suited for various bathrooms of all sizes. As a design expert from Architectural Digest points out, "A frameless glass shower enclosure is most popular for both compact as well as spacious bathrooms, as it offers unobstructed views and long sight lines in the bathroom."
Frameless doors are available in various styles, finishes, and configurations so you can match your overall bathroom decor and fit your space. Whether your dream bathroom is ultra-modern, traditional, or somewhere in between, frameless shower doors can add the perfect finishing touch.
2. Increase the Value of Your Home
Installing a new frameless shower door not only improves the design of your bathroom but also increases the value of your home. Tile, fixtures, and high-end elements like frameless shower doors increase resale value and appeal to potential buyers. Homebuyers are likely willing to pay more for move-in ready bathrooms with contemporary style.
Compared to more traditional framed shower doors, frameless styles make your bathroom look cleaner and more modern. The ROI on frameless doors is high, so you can potentially regain much of the upfront cost if you decide to sell your home. According to Zillow, a bathroom remodel with a frameless glass shower door estimates a national average ROI of 56.2 percent. If boosting your home's value is important, frameless shower doors are a smart investment.
3. Easy to Clean and Maintain
Since frameless shower doors have fewer grooves and crevices where soap scum, water deposits, and dirt can build up, keeping them clean is an easy process. The glass surface is smooth and seamless, making them much easier to squeegee after showering and minimizes the need for a lengthy cleaning routine.
Without a metal frame, you can clear all the water off the glass quickly and there is less chance for corrosion over time. The minimalist maintenance requirements of a frameless shower door, combined with their sleek style, ensure your doors have a long-lasting, pristine appearance for years to come.
4. Built to Last for Enduring Beauty
Don't let the delicate appearance of frameless doors fool you - they are incredibly durable and sturdy. These doors require thicker glass since they are not supported by a frame,so they tend to have a stronger, more robust build. Proper installation is key to ensuring frameless doors function correctly. Although frameless doors have a higher upfront cost than framed doors, their superior strength offers longevity and higher value with proper care.
5. Fully Customizable for Your Bathroom
One of the best perks of frameless shower doors is how customizable they are. Since this style is so popular, many manufacturers offer a wide variety of sizes and styles. Plus, most frameless doors can be custom-made to fit any shower opening, regardless of the type of space you're working with. For larger openings, multiple panels can be combined for a completely original design.
Choices for the types of glass, hardware finishes, and handle styles allow you to personalize the final look. Glass can be clear, frosted, patterned, or tinted in hues like smoke gray. The options are nearly endless when it comes to frameless shower doors.
Things to Consider with Frameless Doors
While there are many benefits to choosing a frameless shower door for your bathroom remodel, there are a few potential challenges to consider before you make your purchase. Frameless doors tend to cost more, both for the quality of materials and necessity for professional installation. The weight of the heavy glass means DIY installation is difficult and potentially risky. Also, there's a small chance of water leakage if the doors are not properly installed. However, with a skilled installation team, these issues can be easily avoided.
When it comes to remodeling your bathroom, installing a glass shower door offers numerous benefits. Choosing a frameless design enhances aesthetics and adds a modern, high-end look to your bathroom. They increase the resale value of your home, upkeep and maintenance are much simpler, they are much more durable with long-lasting beauty, and they allow for total customization. To learn more about different types of shower doors and how to choose the perfect one for you, check out our shower door buying guide.
For help finding the perfect DreamLine frameless shower door, please call 866-282-8413 to speak to a DreamLine Design Consultant. Our stunning frameless shower doors are available today at the Home Depot, Lowe's, Wayfair, and many other fine retailers. Be sure to follow us on social media for new product releases, bathroom design inspiration, and special offers! Tag us @dreamlineshower and #dreamlineshower with a picture of your new bathroom remodel for a chance to be featured across our social channels.