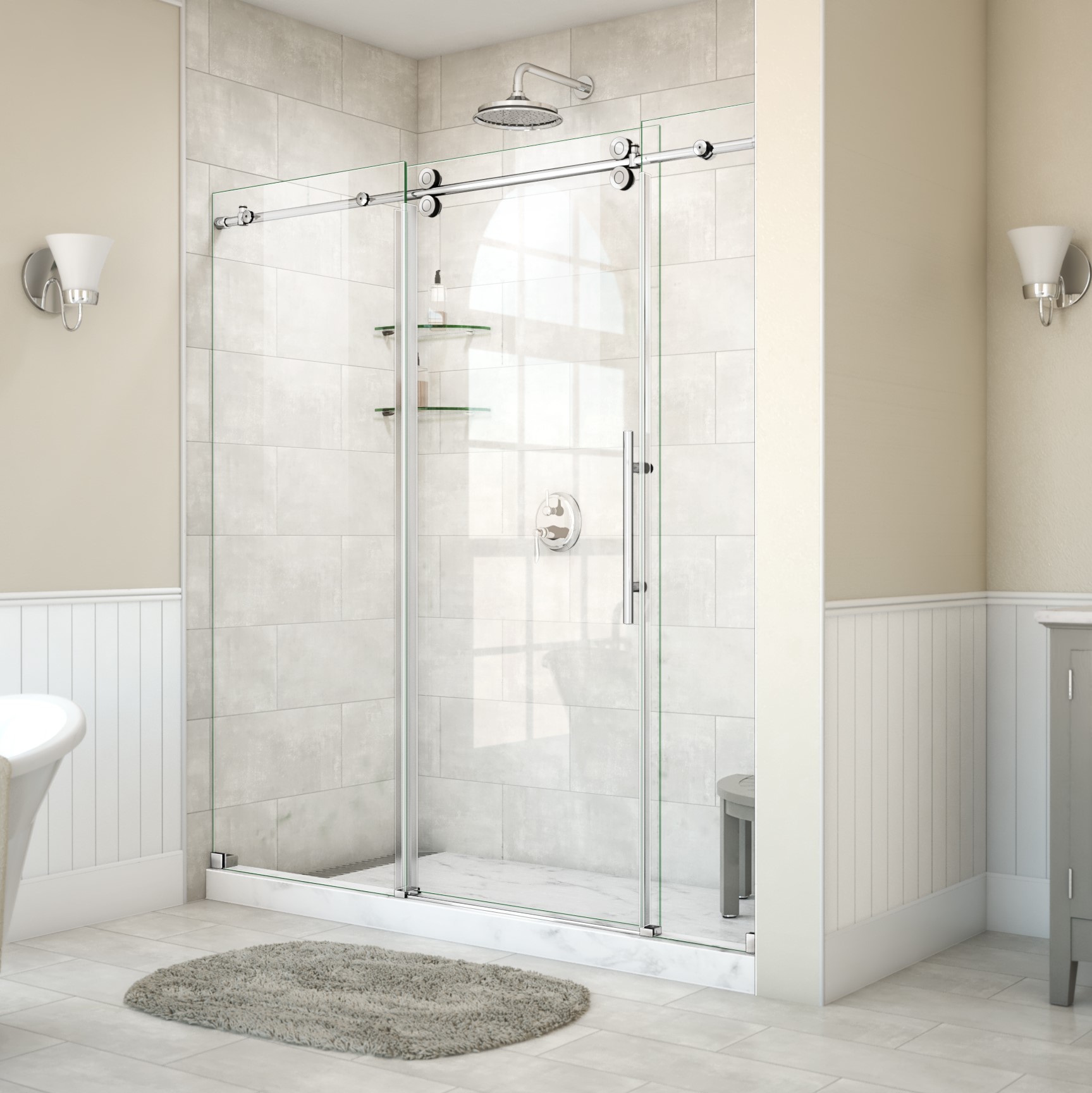 4 Practical Tips for Preventing Spots on Your Glass Shower Door
Replacing a glass shower door is not the same as replacing a shower curtain, so protect your investment. Learn how to clean your glass shower doors and keep them looking brand new.
What causes spots on glass shower doors?
Hard water spots appear when water evaporates and leaves mineral deposits behind. And then mineral deposits, which tend to form in overlapping spots, become the perfect place for soap scum to hang out. If the shower doors aren't cleaned regularly, those hard water minerals can actually seep into the glass over time, leaving you with virtually no way to remove them. Keeping the glass clean is your best bet for preventing this damage in the first place.
What's the best way to keep glass shower doors clean? 4 Easy Steps.
1. CHOOSE GLASS WITH A PROTECTIVE COATING
Your frameless shower door is supposed to highlight the beautiful stonework and intricate tile designs in your bathroom, not soap scum and mineral deposits. That's why the majority of our doors, including the Enigma-X, the French Linea Toulon, and the Unidoor Toulon, come standard with ClearMax glass protection. ClearMax is an exclusive water repellant and stain resistant coating that helps prevent the buildup of hard water and lime scale. ClearMax is the clear choice if you want to keep your glass shower doors looking as beautiful and transparent as the day you bought them.
2. INVEST IN A $5 SQUEEGEE
Even with ClearMax, the squeegee is your friend. Glass will always require a bit of maintenance. Using the squeegee every day helps keep the glass clean. If you don't have a squeegee, you could also use a soft cloth to dry the door after your shower. The correct way to use a squeegee is to start from one of the top corners, apply a bit of light pressure, and drag the blade down so the water runs down the glass as you pull. Repeat this process until there are no more water droplets on the glass. Just make this part of your shower routine, and soon you won't even think twice about it.
3. CLEAN THE GLASS WITH A MILD SOAP, LIKE DISH DETERGENT
About once a week or so, we recommend cleaning your DreamLine shower door with a soft cloth and mild soap, such as liquid dish soap. Don't use an abrasive or harsh cleaner. Harsh cleaners contain toxic fumes, which can make you sick and damage your hardware. Abrasive cleaners will actually scratch the glass, making it harder to keep clean.
4. LET AIR CIRCULATE IN THE BATHROOM
Leaving the bathroom door open after you shower will let air circulate, which will help with water evaporation. If you have a vent in your shower, use it. If you don't, consider having one installed to help protect your shower glass and bathroom from potentially harmful mold and mildew build-up.
Follow these tips and your glass shower doors will stay sparkling clean. Learn more about our warranty and how to care for all of our DreamLine products here.