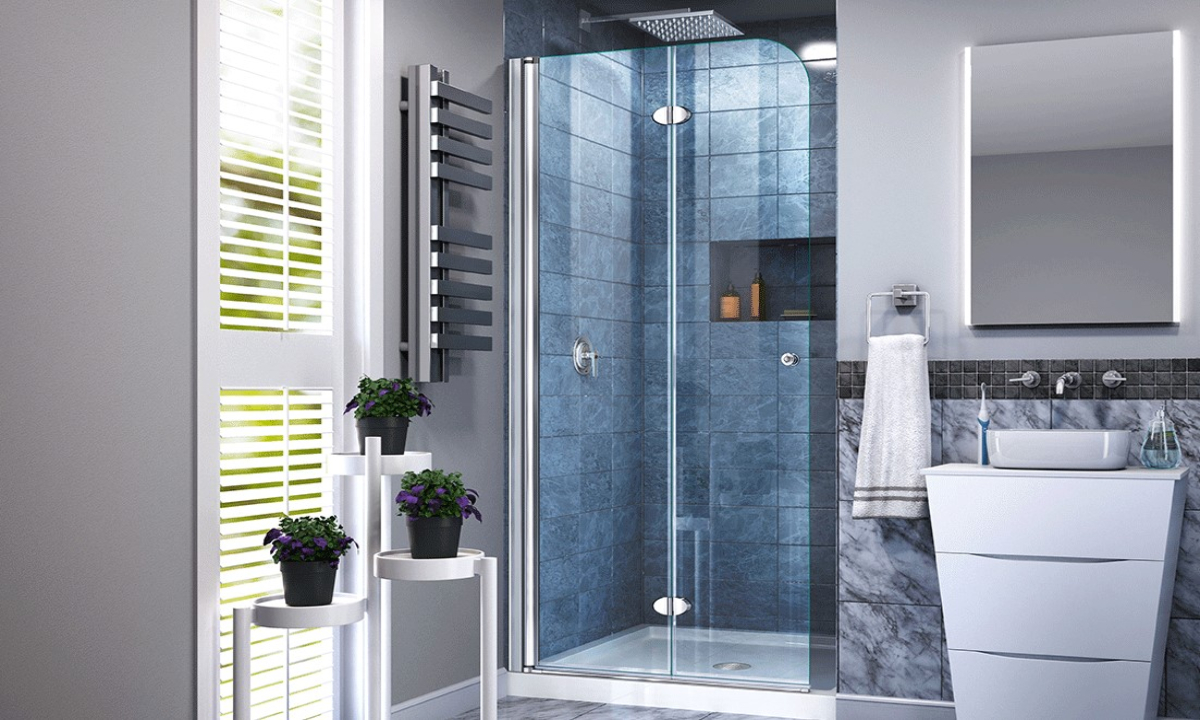 With smaller bathrooms, every inch of extra space is vital.
It's important to understand the array of different style shower doors that will not only function well in a small bathroom, but will also make the space feel bigger and brighter.
Most likely, you will want to look for a sliding shower door, bi-fold shower door, or single panel shower doors, also known as shower screens, as these styles will not impede in your space. Now, depending on your bathroom configuration, a swing shower door design may cut into the room's free space, which may make it tricky maneuvering around a smaller bathroom. Let's look at your most viable options in more detail.


Sliding shower doors are one of the most popular shower door designs for smaller bathrooms; since they slide open and close, you reduce how much space you'll need when entering and exiting your shower, and you still get all of the perks of a traditional shower door!

The Enigma-X is one of DreamLine's most popular shower door designs! It features our award-winning sliding hardware and has luxurious feel that will make sure even with your limited space, you get to have the ultimate shower experience!


The beauty of a bi-fold style shower door is it's designed with space-saving in mind. It has the unique ability to open inward into the shower space, as opposed to outward into the bathroom, saving you plenty of space during daily use.


If you're in the market for something extra special and unique, you may want to consider a shower screen. These ultra-hip, stationary glass dividers will work with the limited space you have, and will add a flair of chic sophistication to your bathroom!

DreamLine's Linea Shower Screen is perfect for contemporary designs and is one of the most efficient ways to save on space if you have a smaller bathroom. The Linea also comes in a variety of designs for you to choose from, such as the French Linea Toulon, Linea Ombre, and Linea Mira, just to name a few.

So, there you have it – DreamLine offers several solutions for smaller bathrooms, and for those who do not want their limited space to limit in their design possibilities.
As all DreamLine shower doors are measured for finished opening dimensions, we always recommend that you measure your finished shower opening before you place your order to confirm that your measurements align with the dimensions of the door.
Need help? Please see our measuring guide or call a DreamLine Consultant at 866-282-8413.
Remember: when it comes to your dream bathroom, it's gotta be a DreamLine.