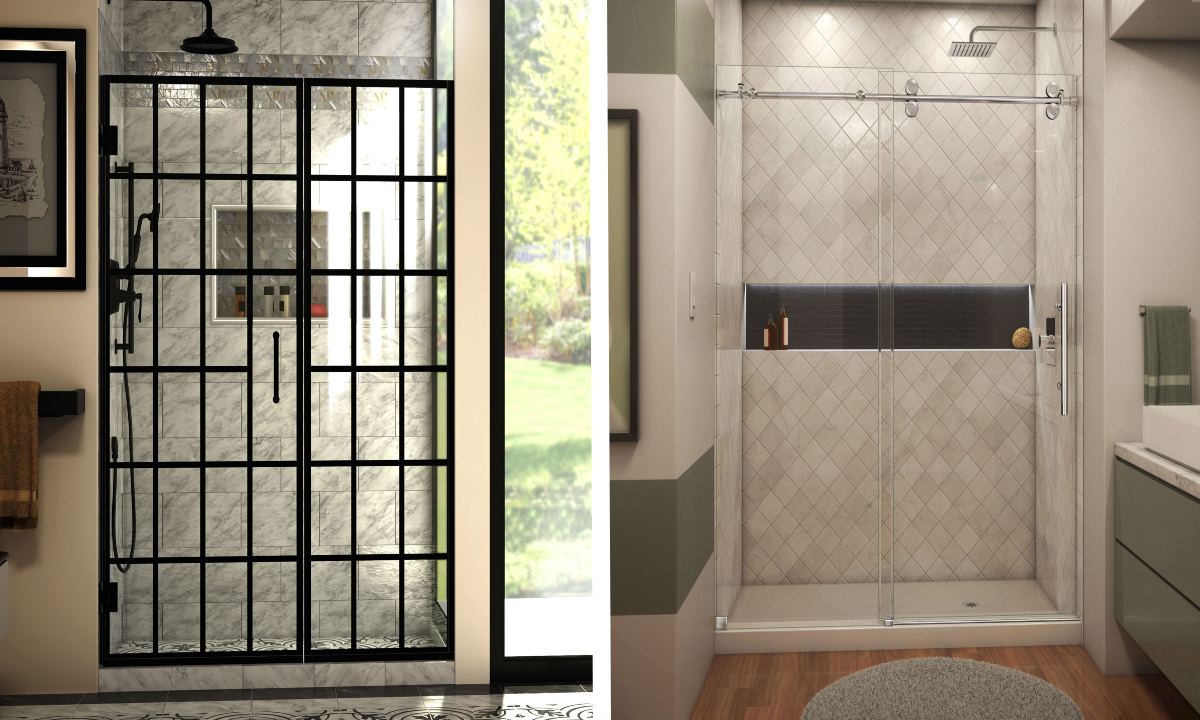 From hinged shower doors to fully frameless sliding door options, DreamLine has the perfect shower door for any opening.
Whether you're designing and building a new bathroom from scratch, completing a bathroom remodel, or just giving an existing bathroom a little face lift, picking a shower door is an important part of the process. Most people think about the shower door design and what kind of hardware would look best, but there's something to consider even before you get into those kinds of specifics.
The right type of shower door will not only enhance your shower, but your entire bathroom space as well. There are a variety of shower door types that each have their own unique configuration and function. Some are built to fit into a corner while others fit into an alcove. There are shower doors that slide open and shut, ones that pivot, and ones that have only one stationary panel.
With so many different shower door types to choose from, you may start to feel overwhelmed. But we've made it simple to understand the different shower door types and how they work, so you can make an easier, more confident choice.
Swing Shower Doors
Hinged:
A hinged shower door is a swinging panel that attaches directly to your tiled wall via a hinge plate and hinges. Most hinged models, such as those in our Unidoor family, require that the wall has wood reinforcement behind it, such as double studs or wood blocking between the studs, to support the weight of the panel. If that condition cannot be met, DreamLine offers the popular Unidoor-X model, which allows the swinging panel to hinge to a panel, and the U-channel that supports it will allow installation without the wood reinforcement present.
For our Unidoor series, those doors all feature adjustable hinges that are factory pre-set to allow the door to swing out, but they can be adjusted to allow the door to swing both ways if desired, which can be helpful if you want a swing door but may have an obstruction (such as a toilet or sink) that prevents the door from fully swinging outward.
Pivot:
Unlike our Unidoor series, which features adjustable hinges, a pivot shower door will only swing outward. These doors, such as our Flex, Elegance, and Elegance-LS, feature specialized pivoting hardware that attaches to the top and bottom of the door panel and are available as semi-frameless and frameless options, respectively. Additionally, because of how the hardware is installed, these models offer out-of-plumb adjustment for uneven walls and do not require studs, making it an excellent choice for someone who wants a swing-style door but is not sure if there is wood reinforcement behind the wall.
Bi-Fold:
A bi-fold shower door is the perfect option for small openings that cannot accommodate a sliding door and have obstructions on the outside that will not allow the door to swing out.
Take for example DreamLine's Aqua Fold. This model consists of a door panel that folds into a hinge panel, and once closed together, the folded panels can swing in or out of the shower. DreamLine offers another bi-fold option, the Butterfly-S, which allows the two panels to fold into the shower. Because of this function, these models offer wider walk-in access than most models.
Sliding Shower Doors
Sliding:
A sliding door typically consists of two panels (depending on the width of the finished opening): a sliding panel and a fixed panel. The sliding panel is on the inside of the shower, overlapping the fixed panel on the outside. DreamLine's sliding doors, such as those in the popular barn-door-style Enigma family, feature a vertical handle on the sliding panel, and the panel effortlessly slides for entry on one side.
To protect against water from escaping between the gap of both panels, it is recommended that the door close against the same wall as your shower head, so the direction of the water does not flow directly into the gap. Additionally, if the fixtures are on the same wall, this allows the door to be opened slightly for the user to operate the fixtures on the outside of the shower, so the water is at the desired temperature before entry.
Bypass:
Bypass sliding doors operate similarly, except both panels slide and can bypass each other, meaning that the panels can slide to either wall.
These doors, such as our Encore, Duet Plus, or Sapphire, allow for entry on either side of the shower and are great for those who need to enter on the side opposite the shower head, but still wish to configure the panels in such a way that the gap between them is not exposed to the water spray.
Shower Screen
A shower screen is a fixed panel that gets installed onto one side of the shower that allows for open entry on the opposite end. DreamLine offers some elegant designs, such as those seen on our French Linea Toulon and Linea Ombre, that will provide style, sophistication, and value to any bathroom!
For larger openings, consider a panel on both walls to allow open entry in the middle of your opening.
As all DreamLine shower doors are measured for finished opening dimensions, we always recommend that you measure your finished shower opening before you place your order to confirm that your measurements align with the dimensions of the door.
Need help? Please see our measuring guide or call a DreamLine Consultant at 866-282-8413.
Remember: when it comes to your dream bathroom, it's gotta be a DreamLine.