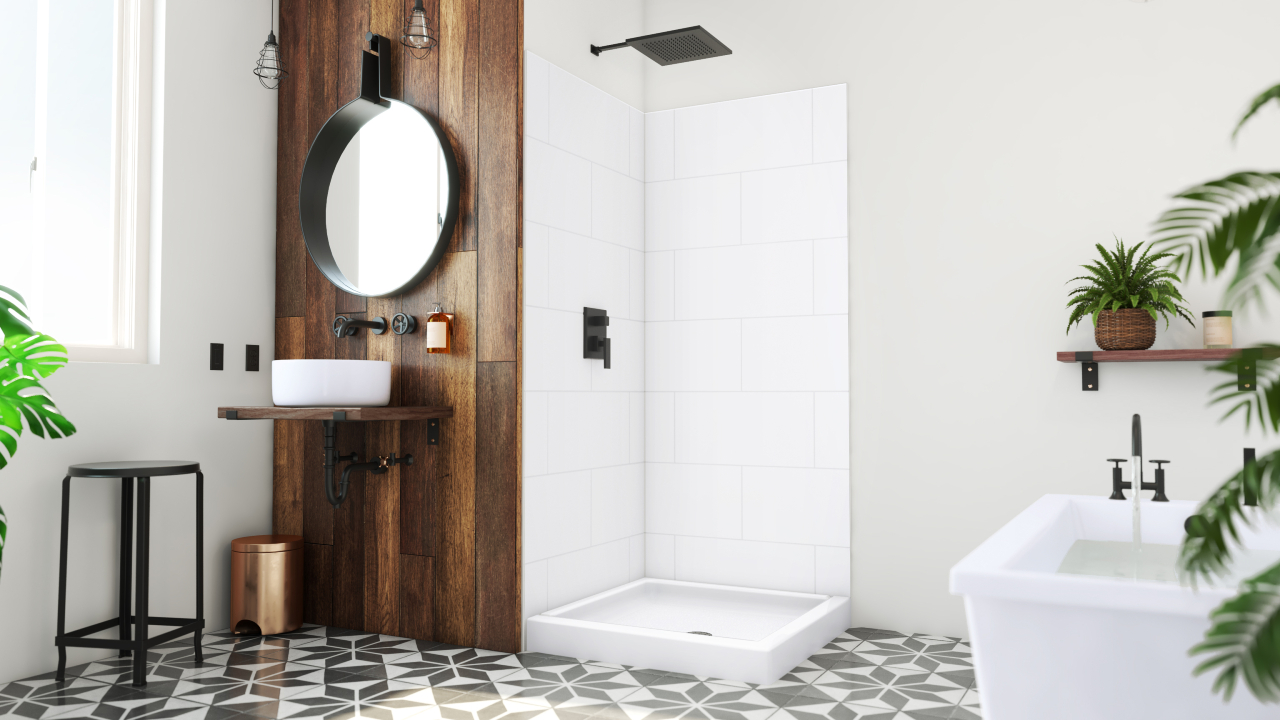 Modern design meets versatility with the easy-to-install DreamStone shower base and wall kits.
Homeowners, designers, and realtors agree—a modern tile shower surround is gorgeous and can make your morning routine that much more enjoyable. The only problem? Custom tile walls are labor intensive and costly to have professionally installed. Also, while ceramic tile itself is easy to keep clean, the grout is prone to mildew and requires regular sealing and maintenance. The only alternative used to be a prefabricated shower stall, which was often viewed as "low-end" and offered fewer design options than tile surrounds.
As the leading shower door manufacturer in the country, DreamLine knew this was a problem we had to solve for our customers. Our solution? The stylish, cost-efficient, and easy-to-maintain DreamStone wall kit. Now you can get the look of luxury tile in your bath or shower—without the cost or maintenance! Our DreamStone wall kits are more stylish than traditional wall kits and are crafted from better quality materials for both beauty and durability that lasts and lasts—even with regular use!
What is DreamStone?
Our premium DreamStone solution offers a range of options designed to coordinate with virtually any bathroom décor, from modern to traditional and everything in between. All of our DreamStone wall kits and shower bases are crafted from a proprietary and durable resin blend for a solid surface that's both heat and chemical resistant. We tested DreamStone's resistance to temperatures as high as 450° Fahrenheit and the ability to withstand exposure to the harshest of chemicals. It is easy to install, easy to clean, and will stay looking bright and new for years to come. The surface is even naturally antimicrobial, meaning it won't breed bacteria.
DreamStone Shower Base
For additional convenience, our DreamStone shower bases can be paired with either tiled walls or a coordinating DreamStone wall kit, giving you the flexibility to design the shower of your dreams. Our shower bases are as stylish as they are versatile, and offer a solid, impact-resistant surface that can withstand daily wear and tear. Available in a wide variety of shapes and sizes with options for a single threshold, double threshold, neo-angle, or low-threshold trench drain, the DreamStone shower base is completed with a slip-resistant, pebbled surface that will not breed any mold or mildew, ensuring a long-lasting finish.
DreamStone Wall Kits
Available for both three-sided alcoves and for corner installations, DreamStone shower walls can accommodate openings as wide as 62 inches, as deep as 42 inches, and up to 84 inches in height. Accommodations for your opening can be made on site, as the panels can be easily cut to fit most shower spaces—even those with sloped ceilings! Just adhere to drywall or even outdated tiles for a quick and easy upgrade. Solid one-piece waterproof panels make installation a breeze, with no grout to scrub or repair, and your choice of a Traditional Subway or Modern Subway-tiled look provides you with two realistic matte patterns to choose from.
While these models offer compatibility with many DreamLine shower doors, not every shower door DreamLine offers is compatible with DreamStone. Please contact a DreamLine Consultant at 866-282-8413 to ensure compatibility before purchasing a DreamStone base and DreamLine shower door.
Remember: when it comes to your dream bathroom, it's gotta be a DreamLine.