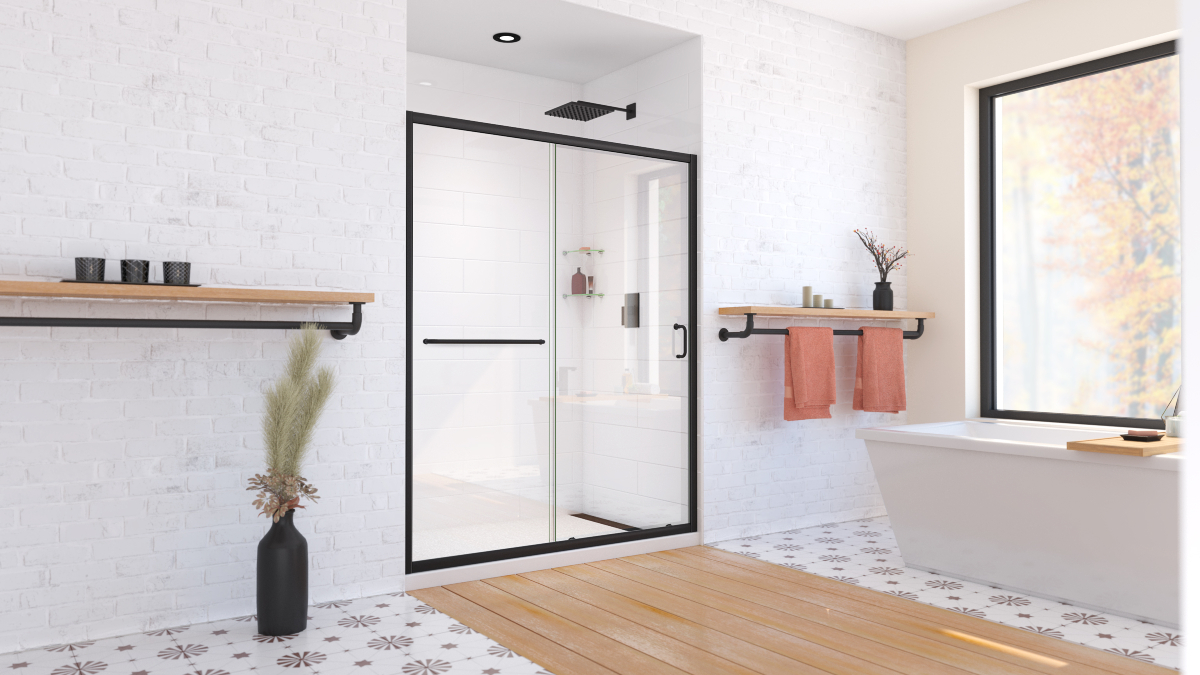 Three luxurious DreamLine shower doors that can make an old opening with uneven walls the perfect shower oasis.

There are many different reasons you may want to give an older bathroom a refresh. Maybe you're putting your house on the market and want to increase the value. Perhaps your children have grown up and moved out, and you're ready for a more high-end look! You may also be noticing dingy grout and outdated colors and just feel the time is right. Whatever your particular situation may be, upgrading your shower is an impactful way to spark new life into an aging bathroom.
Here's where renovating an older bathroom can get tricky. Walls that meet a door or glass panel need to be plumb (or straight) so there aren't any gaps or extra pressure on the joints and hinges. But—as many homeowners already know—most walls in older homes are not perfectly straight. We believe an imperfect opening should not stop you from having your perfect shower door, which is why we offer so many shower door designs with out-of-plumb adjustability!
Here we discuss three of our most popular shower doors with substantial adjustment for out-of-plumb walls and also a wide range of widths. Let's dig in!
Infinity-Z Sliding Shower Door
The DreamLine Infinity-Z sliding shower door provides a familiar design with a modern approach. This popular semi-frameless model offers a stunning look for a variety of openings! Available in a 44-48, 50-54, and 56–60-inch width range, this shower door model offers up to 1 inch of adjustment for out-of-plumb walls on both sides within its wall profiles.
Reversible for left or right wall installation, the 72-inch-high model features quality ¼-inch-thick tempered glass with one sliding panel and an inline panel that includes a convenient towel bar on the outside. Additionally, the door is available in chrome, brushed nickel, oil rubbed bronze, and satin black hardware finishes to match your bathroom design.
Duet Bypass Sliding Shower Door
For those who want to be able to enter the shower space from either side, look no further than DreamLine's Duet bypass sliding shower door.
Equipped with matching towel bar handles, this semi-frameless model is completed with 5/16-inch-thick tempered glass and DreamLine's exclusive ClearMax water and stain resistant glass coating! Opening and closing these glass panels is a breeze thanks to specially designed, smooth-gliding rollers that slide from one wall to the other.
This 72-inch-high bypass unit is available in a 44-48 and 56-60-inch width range and offers up to ½ inch of adjustment per side for out-of-plumb walls within its wall profiles. This elegant design is also available in chrome and brushed nickel hardware finishes.
Elegance-LS Pivot Shower Door
Elegance in design—and in name! DreamLine's Elegance-LS is among our most popular swing shower doors. For starters, it's a pivot shower door that will work in virtually any opening thanks to a wide accommodation of opening widths (from 25 ¼ inches to 65 ¾ inches) and 1-inch out-of-plumb or width adjustment per side within its wall profiles.
Featuring premium 3/8-inch-thick tempered glass and DreamLine's exclusive ClearMax coating, the look is completed with a wall profile on each wall and back-to-back handles that provide a balanced and modern look in either a chrome, brushed nickel, oil rubbed bronze, or satin black hardware finish.
So, there you have it. A number of DreamLine shower door designs that are flexible enough to work in just about any bathroom—old or new. While these models offer generous adjustment for uneven walls and are available for a wide range of finished opening widths, we always recommend that you measure your shower opening before you place your order, just to be sure.
Need help? Please see our measuring guide or call a DreamLine Consultant at 866-282-8413.
Remember: when it comes to your dream bathroom, it's gotta be a DreamLine.